Gwenn Bonnell here with an article that should interest you.
It's about reclaiming all that the joy that you deserve just because you are "alive"... literally!
It's going to be published in my local new age magazine this week, but you get the "scoop" today (just don't tell my editor!).
Why should you care about this?
Because knowing how to get in touch with the natural "joy" responses in your body will help you gain perspective as we enter the busy (and stressful) holiday season.
And help you resist any negative influences…including picking up food (or anything else) to make you feel better.
These natural joy responses will also boost your immunity to the flu.
If you like the article and it's a fit for your list, please feel free to share it with your newsletter, ezine, or post it on your site.
Enjoy!
Gwenn
PS - Did you realize that clearing your Chakras is one of the fastest, cheapest & most effective ways to get in touch with your own creative energies? It's true! If you want to learn how YOU can create an *avalanche* of creative energies in your life check out => http://www.Chakrativity.com

-=-=-=-=-=-=-=-=-=-=-=-=-=-=-=-=-=-=-
Feel Radiant from the Inside Out
By Gwenn Bonnell
Do you have creative and inspirational ideas but find it difficult to bring those ideas into reality? In our energy system, creativity is the role of the 2nd Chakra, a vortex of energies around the lower abdomen and hip area.
Even in men, the oval shape of this "womb Chakra" contains creativity.
In the process of creativity, energy flows from the 3rd Chakra (the solar plexus area) down to the 2nd Chakra. When there is a block in these energies, you can actually gain weight in this part of the body...or find it difficult to lose weight from the same area.
Extra weight, especially around the hips and stomach, is a sign of blocked creativity. We are literally holding in energies that are longing to be born.
Any block between the 2nd and 3rd Chakras affects them both. The "belt flow" is a "Radiant Energy" system between the 2nd and 3rd Chakras. (People who can see subtle energy describe the belt flow as having a "radiant" quality.) It surrounds the waist and distributes energy up and down the body.
When the belt flow connects these energies, we can reach our spiritual heights, yet remain grounded. We are inspired and can manifest our inspirations in the physical world.
When these energies are not flowing, energetic residue can accumulate at the waist, cutting the 2nd Chakra off from the 3rd Chakra. We are energetically and physically top-heavy or bottom-heavy. We might develop digestive problems or fertility issues. Our natural spontaneity, trust, faith, and the energy of youth, is gone.
Societal norms can weight us down, leading to lower self-esteem.
Opening the belt flow gives us a healthy sense of self so we can embrace our life and our inspirations. We have more than enough "youthful" energy to bring our ideas into reality.
Activating the Belt Flow
This reestablish harmony between the 2nd and 3rd Chakras.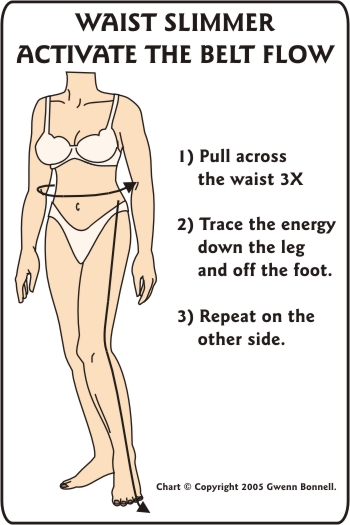 a) With your fingers spread, circle both your hands (palms against the back) around your back on the left side of your body at the waist. Pull from the back of the body to the front and all the way across the belly to the right side with some pressure and a lifting movement.
b) Pull across at the waist, above the waist and below the waist. Do this several times with pressure, continuing the lifting movement each time you come across the waist. (If you're pregnant or have a "Buddha belly," pull across above and below your belly.)
c) On the last pull across your waist, firmly slide both hands down the outside of your right leg and off your foot.
d) Repeat on other side of the body.
Clearing Belt Flow Residue
This abdominal stretch clears energetic residue, thereby reinforcing the radiant energy flow between the top and bottom halves of the body.
a) Stand straight, and grip your hands over the back of a chair for support.
b) Inhale, keep your leg straight and lift one leg backwards as far as is comfortable. Exhale as you lower the leg.
c) Inhale and lift the other leg. Exhale as you lower the leg. Feel the stretch in your abdomen.
d) Repeat several times, stretching the abdomen with each leg lift.
The radiant energies may also be activated by:
- Stretching, yoga, or anything that helps make space in the body.
- Crossing the energies from one side of the body to the other, such as walking, roller-blading, swimming, or drawing sideways "Figure 8's" with your arms.
- Watching sunsets and sunrises, listening to inspiring stories, and other things that raise your spirit.
- Walking outdoors or sitting at the beach, having more air and space around you.
- Telling jokes, laughing, tickling, even smiling at everyone you know (or even better, smiling at strangers).
If you don't use it, you really do lose it: Your radiant energies can become stagnant. Exercise your radiant energies daily with the Belt Flow exercises, and they will be more available to you.
May your life will be more filled with joy, laughter, love and beauty!
Love & Light,
Gwenn
P.S. The Secret Stomach Slimmer is just one of 9 simple Energy Medicine secrets that will boost your metabolism... included in my Tap Away Those Extra Pounds – How To Lose Weight Forever with EFT ebook
This ebook is loaded with more tips and techniques on how to stop cravings cold, how to banish emotional overeating, how to instill new healthy habits, and 9 powerful drills that take only seconds yet instantly fire up your metabolism!
Order from www.EFTslim.com now and you get a BONUS jam-packed audio recording of my Expo presentation…
- Tap along as the audience dramatically lowers their cravings
- Fire up your metabolism with EFT
- Learn how to find YOUR special tapping points
- Learn how to use EFT with children
- How to address the emotional triggers behind cravings
- How to clear up self-sabotaging behaviors
- How to instill new, healthy habits with the Temporal Tap

What are you waiting for?... Listen to this entire presentation
as your BONUS right now => www.EFTslim.com
-=-=-==-=-=-=-==-=-=-=-=-=-=-=-=-=-=-=-
© Copyright 2004 Gwenn Bonnell, All Rights Reserved
Ft. Lauderdale, Florida
954-370-1552
http://www.tapintoheaven.com
- EFT & Energy Medicine
http://www.EFTslim.com
- EFT for Weight Loss
http://www.Chakrativity.com
- Enhance YOUR Creativity
To join our FREE email support list, email
tapintoheaven-subscribe@yahoogroups.com
<-- End Article -->
** Attn Ezine editors / Site owners **
Feel free to reprint this article in its entirety in your ezine or on your site so long as you leave all links in place, do not modify the content and include our resource box as listed above.
Feel free to substitute your affiliate link in place of our link in the resource box for www.EFTslim.com
Earn up to 50% on every purchaser you refer!
Affiliate details are available here:
www.EFTslim.com/affiliate
If you do use the material please send us a note
so we can take a look. Thanks.
-=-=-=-=-=-=-=--=-=-=-=-=-=-=-